| | | | | |
| --- | --- | --- | --- | --- |
| [ | Current Mood | | | restless | ] |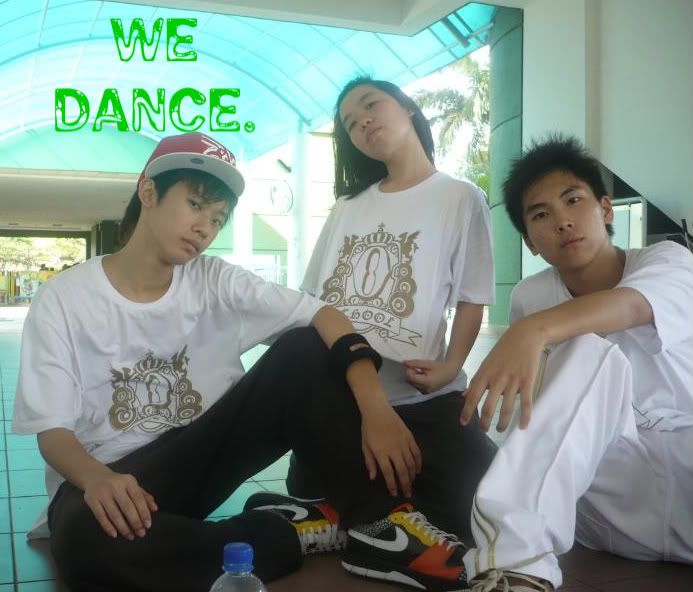 The more I dance, the more I feel the passion.
Do you?
Live with a dancing spirit. The stars in the heavens are dancing through space, the Earth never ceases to spin. All life is dancing; the trees with the wind, the waves on the sea, the birds, the fish, all performing their own dance of life. Every living thing is dancing, and you must keep dancing too, for the rest of your life - DAISAKU IKEDA

Meet-up with Zhuhui on Friday was great. Even though we haven't been meeting, we still talk A LOT(surprisingly). I thought we will be feeling damn awkward because we haven't been seeing each other for a long time. But, we talk from 5.30-7.30. Amazing aight :) But Friday wasn't exactly a great day for me. Sigh, shan't talk about it.

Anyway,
Dance on Saturday at Oschool was fun as usual :)
Dance on Sunday = Awesome! Learning new things makes me feel very motivated.
Okay pictures up.



I really wanna post more pictures on my attachment because I really have a lot of pictures which will make you go "AWWW SO CUTE".
But tooooooooooooooooo bad, I have to abide the rules. Right, Sijia?

Tell me what am I supposed to do, who am I supposed to trust, how am I going to handle the situation, anyone? I'm feeling lost yet again.

School starting at 8 tomorrow, which means waking up at 5. Deprived of sleep yet again.
Fortunately there was no school today, and I finally get to sleep-in. LIKE REALLY FINALLY!
But I'm feeling so guilty, I was supposed to study, since it was white space week.
(which means to study by your own) But apparently, I didn't AT ALL.
NRA on Wednesday with Christine! YAY :D
OMG DAMN HAPPY! FRESHIES GET TO PERFORM FOR DANZATION!
OLEOLEOLEOLE.

Kay going off for more video-watching. Toodles.
I really don't understand what you're thinking at all.Is like you blame me/us on everything. But seriously, have you ever reflect on yourselves? I admit that this friendship is haywired partly because of me and I'm really apologetic about that, but hello? don't you know that it actually takes 2 hands to clap? I really don't dislike you. In fact if there is any more chance where our friendship could be salvaged i would defnitely treasure the opportunity. But that is only when your character has change for the better. If not, please, I'll just ignore you for the rest of my life, because I don't think you are worth my tears nor my time. You have disappoint me over and over again.